About Los Angeles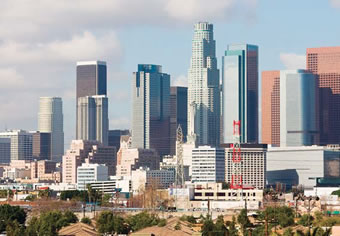 AFSCME's 40th International Convention will take place in Los Angeles.
Los Angeles is a high-energy city, a place of entertainment, arts and boundless dreams. It's the perfect locale for delegates to AFSCME's 40th International Convention to chart the course for our union's future and celebrate its 75th Anniversary.
L.A. is known for balmy weather and ocean views, but the city also boasts a proud labor history – a tradition of solidarity that has grown stronger through the decades. In 1875, Los Angeles printers founded the first union in Southern California, Local No. 174 of the International Typographical Union. Today, more than 800,000 workers are represented by the unions of the Los Angeles County Federation of Labor.
Our host city is also one of the world's sports capitals. Take your pick: whether it's the Dodgers or Angels, Clippers, Lakers or Sparks, UCLA or USC, there's a team in L.A. to make you cheer. In the City of Angels, convention activities will be headquartered at L.A. Live, an area overflowing with entertainment venues, restaurants and special events, all adjacent to the Los Angeles Convention Center.
By day Los Angeles is bright and sunny but the evenings can be cool. Bring a light jacket to keep warm while you are enjoying the Southern California night.
For more information on events, attractions, restaurants and other activities, please visit: www.discoverlosangeles.com/afscme2012.
You can also find information on Transportation and Convention Hotels.